idgard® Office Add-in: General Tab
To open the settings, click on the "cog" icon on the login screen or in the idgard® Office Add-in.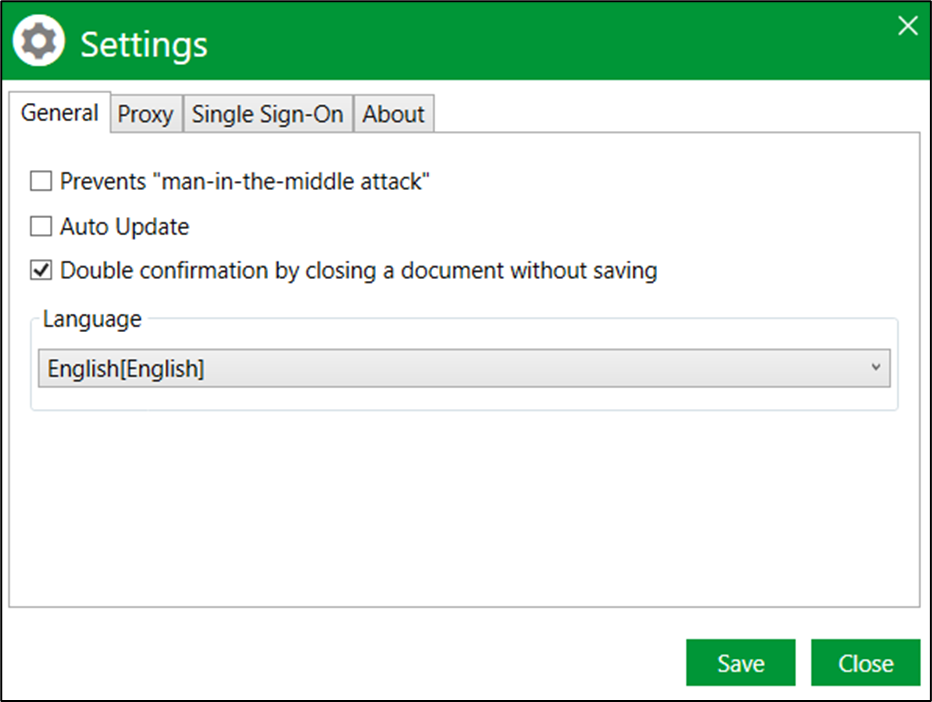 Proceed as follows:

Due to a system change please leave the top checkbox unchecked.




Click in the checkbox "Auto Update" you always work with the current version of the idgard® Outlook Add-in.




Activate the lower checkbox, you will be informed by a pop-up that you close a document without saving the changes.




Under "Language" you select the language in which the idgard® Office Add-in should be displayed.



Once you have made your selection, click on "Save".
This article did not answer your question?
We are happy to help you! Just send us a message with your questions and we will get back to you as soon as possible.






Disclaimer

The content of this online help is intended solely for information and documentation purposes for our product idgard® and can be changed at any time without prior notice. We assume no responsibility or liability for errors or inaccuracies. Due to technical developments, uniscon GmbH reserves the right to change the functional scope of the product at any time.
Recent Articles

New features are available in your idgard apps 🎉

We are pleased to announce that new functions are now available in the idgard apps for iOS (7.5.0) and Android (2.2.0). We would like to present a few selected functional highlights to you below: Android app - 2.2.0 Added share link feature You are ...

Enable/disable data backup in the box

If you use the Enterprise package, Sealed Backup is automatically active. This means that data backup is also activated in the boxes and data rooms. However, before the data backup is deactivated in a box and the data is therefore not backed up, you ...

Secure sending of e-mail attachments with the BoxMail

Creating a BoxMail If the function to create this box is inactive, contact the administrator of your idgard® account. The administrator can assign you permissions to create a temporary box. A BoxMail is characterized by the fact that you can create a ...

idgard® System Update and Possible Service Interruption of February first

We are planning an idgard® system update on the evening of February 1, 2023. The update will begin at 8:00 pm and is expected to last until 10:00 pm. We can not guarantee full availability of all idgard® features during this period. Kindly consider ...

idgard® app for Microsoft Teams: idgard® app for Microsoft Teams installation

Installation If idgard® is not in the Microsoft Teams app store, you must make it available there. Before the idgard® app can be used, it first has to be integrated into Microsoft Teams. This process can only be carried out by a user who has ...
Related Articles

idgard® Office Add-in:Requirements

To be able to save and open documents in idgard®, the following requirements must be met: · You must be created in idgard® via a full license. · You must be a member of an existing box. · You need at least the read and write ...

idgard® Office Add-In:Introduction

Given you are a Microsoft Office user, i. e., you work with Word, PowerPoint or Excel. There are many files which you wish to exchange regularly with co-workers or external parties; or modify in common, as a team. Or you want to be able to access the ...

idgard® Office Add-in:Proxy tab

The proxy server can be used to secure, obfuscate or accelerate the communication between a local client and a web server. If you use a proxy server in your internal network, enter the corresponding data here. This article did not answer your ...

idgard® Office Add-in:Lock/unlock file

If you want to change the contents of a file and then make it available to other Box members, you should lock the file beforehand. When the modification is complete, upload the file back to the box and unlock the file. A locked file signals to other ...

idgard® Office Add-in: Single Sign-On tab

If you have not already selected this function during installation, you can adjust it here later if you use SSO in your company. Proceed as follows: Click the Enable Single Sign-On checkbox. Enter the required data. Once you have made all the ...
Popular Articles

Uploading files

Uploading files You can upload one or more files up to a size of 5 GB. For a fee, we can increase the size limit of 5 GB for you. You can only upload files with the "Write" permission. There are two methods with which you can upload files to a box. ...

Create e-mail template for registrations

Create e-mail template for registrations This feature is only available in the Enterprise package. If you have the Admin's permissions in the idgard® account, you can write an individual text for the user registration. This text will be used if you ...

certificate pinning

Dear Customer! In June 2022, we will remove certificate pinning from our products. Over the years, security around the use of certificates has improved significantly. In particular, the threat of man-in-the-middle attacks has been mitigated through ...

Welcome to the idgard® online help

Welcome to the idgard® online help This online help is the main source of information for learning and working with idgard®. Click on one of the following links to obtain further information about idgard®. To use the online help: Search article Enter ...

New articles - new functions in idgard® version 1.4

New functions Permission to view and export journal contents in the Data Room Viewing, querying, and exporting activities in the journal of a Data Room Disclaimer The content of this online help is intended solely for information and documentation ...