Isn't encryption on the device the best bet for a safe cloud?
Isn't encryption on the device the best bet for a safe cloud?
The term "cloud computing" encompasses two aspects:

Data storage in a cloud for one's self, excluding multiple or third-party access.

Data processing or storage of information in a cloud, intended for multiple or third-party access.

In the first case, encrypting data on a device and then transferring it in encrypted form to the cloud is sufficient. However, should information be shared with third parties, as in the second case, the secret key would have to be distributed through some safe channels or by centralized key administration. Transferring the key through unsafe channels (e.g., a password by e-mail), can lead to undesired eavesdropping through robots and third parties. However, should the data not only be stored but also processed in the cloud, data encryption is necessary once it has been transferred to the cloud. This is because data processing requires, with the exception of so-called homomorphic encryption, that the data is available in plain text. Usually at this point, the administrators of the cloud, as well as the cloud application, have direct access to the confidential data. Consequently, that kind of data processing requires trustworthy providers and administrators. The special feature of the sealed cloud is that it logically, electronically and mechanically prevents the operators or administrators from accessing the data during processing. Thus, the sealed cloud creates the possibility to process confidential data in the cloud. idgard® applies this new basic technology to enable secure communication via sealed privacy boxes without complicated key management.

Dieser Artikel konnte Ihre Frage nicht beantworten?

Wir helfen Ihnen gerne weiter! Schreiben Sie uns einfach eine Nachricht mit Ihren Fragen und wir melden uns so bald wie möglich bei Ihnen zurück.

Haftungshinweis/Disclaimer

Der Inhalt dieser Onlinehilfe dient lediglich zu Informations- und Dokumentationszwecken für das Produkt idgard® und kann jederzeit ohne Vorankündigungen geändert werden. Für Fehler oder Ungenauigkeiten übernehmen wir keine Verantwortung oder Haftung. Aufgrund technischer Weiterentwicklungen behält sich die uniscon GmbH jederzeit vor, den Funktionsumfang des Produkts zu ändern.
---
(C) uniscon GmbH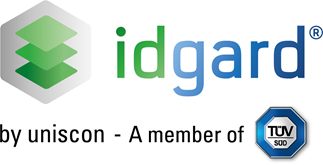 Recent Articles

idgard System Update and Possible Service Interruption of Dezember 12

We are planning an idgard system update on the evening of December 12, 2022. The update will begin at 8:00 pm and is expected to last until 10:00 pm. We can not guarantee full availability of all idgard features during this period. Kindly consider ...

idgard® iOS app: Notification about new folder contents

Mark folder with new contents "as read" If a folder contains unread/new files or messages, this is indicated by a number on the respective folder. The number on the folder refers to the number of new/unread objects. A folder that contains new objects ...

idgard® iOS app: Vibration alarm for new objects

Vibration when new objects are received Similar to the notification sound, the idgard® iOS app provides haptic feedback when there are new/unread objects in a Box. You can activate or deactivate this feature in the "Settings" menu . You can find ...

idgard® iOS app: Notification about new Box contents

Mark Boxes as read If there are new contents in a Box this is indicated by a red number on the Box icon. The number on the Box refers to the number of new/unread objects. When you open the objects, the notifications disappear. You can also mark a ...

idgard® iOS app: Notification about new chat messages

New chat message received If you receive a new chat message from another user in your box, this is indicated by the number displayed next to the Chat feature at the bottom of the screen and in the chat room of the box. If you open the chat room and ...
Related Articles

Operator-safe data exchange with idgard®

Operator-safe data exchange with idgard® With idgard®, operator security means that we have no access to your data. idgard® eliminates this risk completely, not only thanks to its encryption technology but also through intelligent physical access ...

Problem with new login

Problem with new login At the moment, when connecting idgard® Boxes with WebDAV via FullQualifiedDistinguished Name (FQDN) as "networkfolder" and not as "drive", problems occur after a new Windows login due to a problem of the Windows WebDav Client ...

Future developments of idgard®

Future developments of idgard® idgard® is the first cloud service built on sealed cloud technology, which makes it possible, for the first time, to combine end-to-end security with data processing in the cloud. So far, it was possible either to only ...

Enable WebDAV function

Enable WebDAV function WebDAV customarily postulates local storage of a username and password, so that it is only secure and recommendable if the used device is in a trustworthy environment. Protection Class Implications as per Trusted Cloud Data ...

Legal issues related to idgard®

Legal issues related to idgard® The relevant aspects concern the telecommunications and data protection laws, as well as contractual issues regarding cloud services. The service idgard® and its sealed cloud technology are compliant with these norms ...
Popular Articles

Uploading files

Uploading files You can upload one or more files up to a size of 5 GB. For a fee, we can increase the size limit of 5 GB for you. You can only upload files with the "Write" permission. There are two methods with which you can upload files to a box. ...

Create e-mail template for registrations

Create e-mail template for registrations This feature is only available in the Enterprise package. If you have the Admin's permissions in the idgard® account, you can write an individual text for the user registration. This text will be used if you ...

certificate pinning

Dear Customer! In June 2022, we will remove certificate pinning from our products. Over the years, security around the use of certificates has improved significantly. In particular, the threat of man-in-the-middle attacks has been mitigated through ...

Welcome to the idgard® online help

Welcome to the idgard® online help This online help is the main source of information for learning and working with idgard®. Click on one of the following links to obtain further information about idgard®. To use the online help: Search article Enter ...

New articles - new functions in idgard® version 1.4

New functions Permission to view and export journal contents in the Data Room Viewing, querying, and exporting activities in the journal of a Data Room Disclaimer The content of this online help is intended solely for information and documentation ...