idgard® iOS App: Opening Objects
Opening idgard® iOS App Objects

To open a file, you need "download" permission. Objects must be downloaded in order for you to be able to open them. When you tap the object name, it is downloaded automatically and opens. These objects are downloaded within the secured idgard® data environment. If this is not the case, you can initiate the process. A document can only be recognized by
the idgard® iOS app when the corresponding software has been loaded on your iOS device. In order to read a Word document, you require the corresponding Word app or a similar app on your device.
Please note there may be costs associated with the installation of other apps.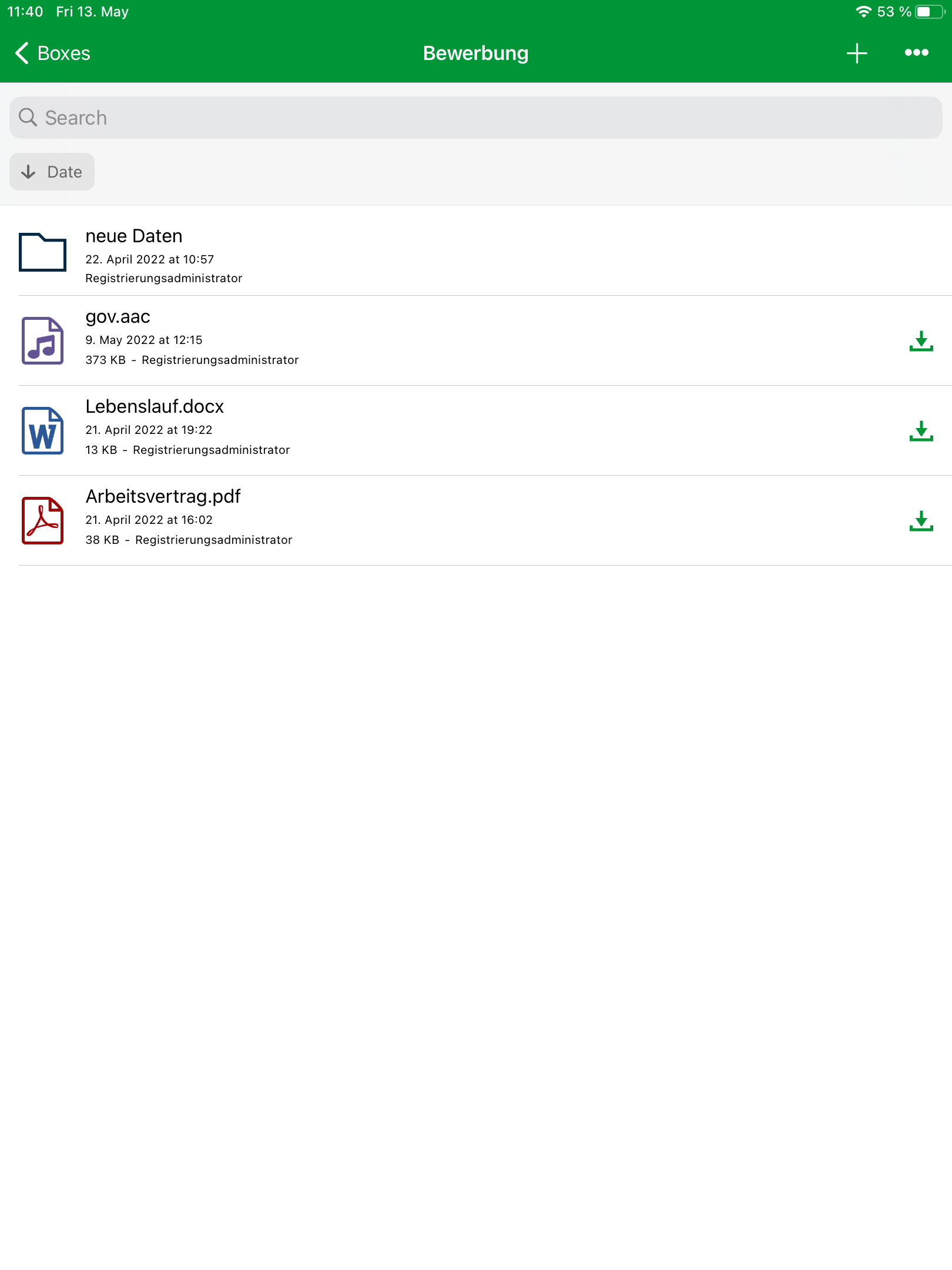 Proceed as follows:

Tap the object




If it does not open, tap the green

download icon

on the right in the object line.



This article did not answer your question?
We are happy to help you! Just send us a message with your questions and we will get back to you as soon as possible.
Disclaimer

The content of this online help is intended solely for information and documentation purposes for our product idgard® and can be changed at any time without prior notice. We assume no responsibility or liability for errors or inaccuracies. Due to technical developments, uniscon GmbH reserves the right to change the functional scope of the product at any time.

Recent Articles

Provided templates for a meeting pack

Standardized Templates for the Session Folder Attached to this article below you will find templates that we would like you to test. These are standardized templates with a predefined layout. Feel free to send us your cover page and table of contents ...

Filter for classified documents

Display classes This function is only included in the Enterprise package. The "Document Classification" function must be activated by the administrator beforehand. If there are several documents with different classifications in your data room, you ...

Automatic deletion of the data room content

For a data room, the manager/owner specifies the time period after which files and notes are automatically deleted after they are uploaded. In data rooms, you can individually set how long files and notes may remain in the data room. In the ...

License consumption of a full license user

A user with a full license can create guests and/or data rooms depending on the assigned permission. In each case a license is required, which thus reduces the license pool of your idgard account. For control you have in the administration an ...

Automatic passcode generation when sharing boxes Boxen

When a user is created, a 2-factor authentication for the login is forced. Without the assignment of a 2-FA method, the user cannot be created. If you want the SMS pass code method to be used for users, you must first purchase this it. The 2-factor ...
Related Articles

idgard® iOS App: Renaming Objects

Renaming idgard® iOS App Objects You can rename files, folders, messages, pictures and videos. If you want to rename the object of another user, you must be the Box manager or owner. Proceed as follows: Tap and hold the name of the object. T he ...

Deleting idgard® iOS App Objects

Deleting idgard® iOS App Objects As a user, you require delete permission to delete the files of other Box members. If you do not have this permission, you can only delete your own files, folders or messages. Proceed as follows: T ap the 3-dot menu ...

idgard® iOS App: Moving Objects

Moving idgard® iOS App Objects Box owners and Box managers can move the folders or files of other users within a Box. Box members can only move their own folders or files with the write permission. Proceed as follows: Tap the 3-dot menu in the ...

idgard® iOS App: Sorting Objects in Boxes

Sorting idgard® iOS App Objects Objects such as files, folders, pictures, videos and messages are sorted alphanumerically, i.e., they can be sorted by letters as well as numbers. This sorting is suspended when one of these objects is new and unread. ...

idgard® iOS App: Provide objects offline

Objects for use offline When you use a Box in offline mode, all files are backed up solely to storage areas on your device to which only the idgard® iOS app has access. This means that a copy of the data residing in idgard® in the Box will be created ...
Popular Articles

Uploading files

Uploading files You can upload one or more files up to a size of 5 GB. For a fee, we can increase the size limit of 5 GB for you. You can only upload files with the "Write" permission. There are two methods with which you can upload files to a box. ...

Create e-mail template for registrations

Create e-mail template for registrations This feature is only available in the Enterprise package. If you have the Admin's permissions in the idgard® account, you can write an individual text for the user registration. This text will be used if you ...

certificate pinning

Dear Customer! In June 2022, we will remove certificate pinning from our products. Over the years, security around the use of certificates has improved significantly. In particular, the threat of man-in-the-middle attacks has been mitigated through ...

Welcome to the idgard® online help

Welcome to the idgard® online help This online help is the main source of information for learning and working with idgard®. Click on one of the following links to obtain further information about idgard®. To use the online help: Search article Enter ...

New articles - new functions in idgard® version 1.4

New functions Permission to view and export journal contents in the Data Room Viewing, querying, and exporting activities in the journal of a Data Room Disclaimer The content of this online help is intended solely for information and documentation ...