idgard® iOS App: Sorting boxes
Boxes can be sorted by name as well as by owner. If there are new/unread files in a Box, it will appear at the top of the list. The sorting can be set to ascending or descending order. Please note that users will only be shown those Boxes of which they are a member. Therefore, Box sorting can result in a different view for each user.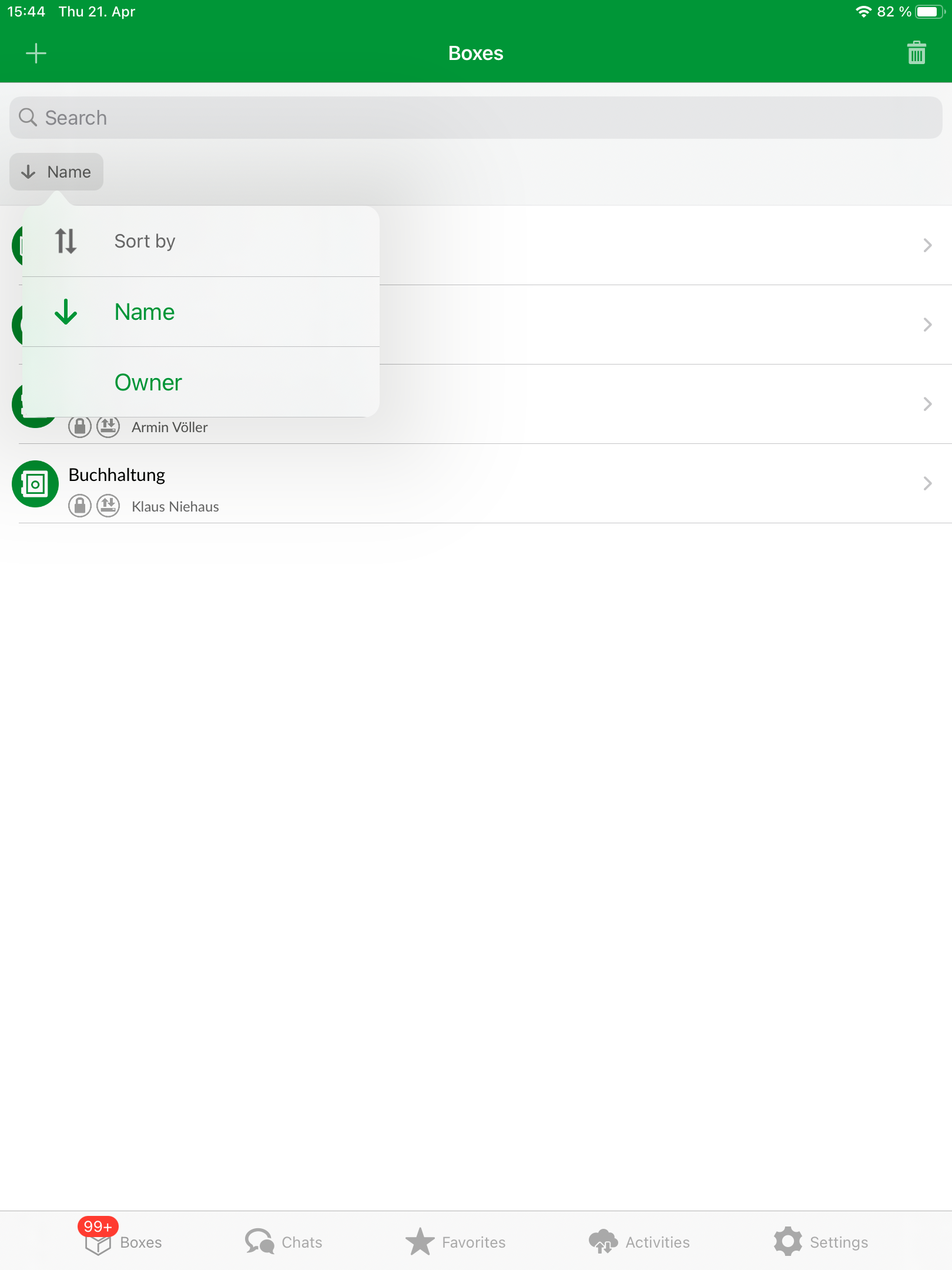 Tap the field with the

arrow

under the search field.




Select

"Name"

or

"Owner"

as the sorting type.




Tapping

"Owner"

or

"Name"

a second time results in sorting that is in ascending or descending order.
This article did not answer your question?
We are happy to help you! Just send us a message with your questions and we will get back to you as soon as possible.
Disclaimer

The content of this online help is intended solely for information and documentation purposes for our product idgard® and can be changed at any time without prior notice. We assume no responsibility or liability for errors or inaccuracies. Due to technical developments, uniscon GmbH reserves the right to change the functional scope of the product at any time.

Recent Articles

Authorize user group for files

If members of a data room are to be authorized for folders or documents, then "Extended Rights Management (ERM)" is suitable for this. To give a user certain permissions to folders or files, this user must first be assigned to a user group. The ...

Logging actions within the administration

Logging actions within administration You can access this area with administrator permissions only. You can track all actions that have taken place within the administration. Various actions in the administration, for example, the creation of a new ...

idgard System Update and possible Service Interruption - 24.05.2023

We are planning an idgard system update on the evening of May 24, 2023. The update will begin at 8:00 pm and is expected to last until 10:00 pm. We can not guarantee full availability of all idgard features during this period. Kindly consider ...

idgard® Outlook Add-in:Proxy tab

If your company uses a proxy server to communicate with the Internet, the proxy server's details must be included in the Office Addin settings before you can use it. Put in the corresponding details and click on the Save-Button. The proxy settings ...

Creating user groups for extended rights management

Extended rights management is available in the Enterprise package. Advanced rights management is used to assign permissions to the contents of a folder or file to groups of users. There are 2 methods to create user groups for the extended rights ...
Related Articles

idgard® iOS App: Sorting Objects in Boxes

Sorting idgard® iOS App Objects Objects such as files, folders, pictures, videos and messages are sorted alphanumerically, i.e., they can be sorted by letters as well as numbers. This sorting is suspended when one of these objects is new and unread. ...

idgard® iOS app: Boxes are not displayed

No Boxes If you log in to the idgard® iOS app and do not see any Boxes in the Box overview or certain Boxes are missing, it may be due to the following reasons: You have not been added to a Box. You have been removed from a Box. The owner of the Box ...

idgard® iOS App: Box Overview

idgard® iOS App Box Overview Boxes containing unread files are displayed at the top of the list and the rest are displayed in alphanumerical order. The total number of unread files for all Boxes is displayed in the footer. This is also displayed ...

idgard® iOS App: Delete box

Deleting an idgard® iOS App Box Only the Box owner can permanently delete the Box. If a Box cannot be deleted, it may contain locked files. In this case, unlock the files and reattempt to delete. If a Box member with a guest or full license uses the ...

idgard® iOS App: Provide objects offline

Objects for use offline When you use a Box in offline mode, all files are backed up solely to storage areas on your device to which only the idgard® iOS app has access. This means that a copy of the data residing in idgard® in the Box will be created ...
Popular Articles

New features are available in idgard!

Today's newsletter covers the most important information about the current updates in the idgard Web App, the integration of idgard in Microsoft Teams and new features in the idgard Mobile Apps. Check out some selected highlights below. Announcement: ...

Uploading files

Uploading files You can upload one or more files up to a size of 5 GB. For a fee, we can increase the size limit of 5 GB for you. You can only upload files with the "Write" permission. There are two methods with which you can upload files to a box. ...

Welcome to the idgard® online help

Welcome to the idgard® online help This online help is the main source of information for learning and working with idgard®. Click on one of the following links to obtain further information about idgard®. To use the online help: Search article Enter ...

Isn't encryption on the device the best bet for a safe cloud?

Isn't encryption on the device the best bet for a safe cloud? The term "cloud computing" encompasses two aspects: Data storage in a cloud for one's self, excluding multiple or third-party access. Data processing or storage of information in a cloud, ...

Legal issues related to idgard®

Legal issues related to idgard® The relevant aspects concern the telecommunications and data protection laws, as well as contractual issues regarding cloud services. The service idgard® and its sealed cloud technology are compliant with these norms ...