Watermark PDF files
This feature can only be found in a data room.
Data rooms can be added for the Growth and Enterprise packages.
The dynamically generated watermark from idgard® can only be added to a PDF file.
The watermark contains the name of the user and a timestamp of the date on which the file was opened and downloaded by a user. This marking offers protection against unauthorized disclosure of documents. If this function is applied to a PDF file, the marking is automatically embedded in each page of the file.
Only the data room creator and the data room administrator can activate and deactivate the watermark function for a PDF file.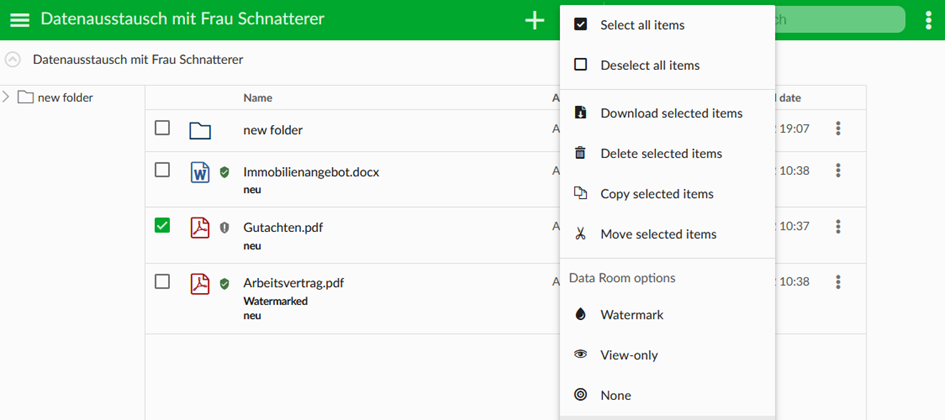 Click on the check box to select the PDF file

Click on the "document" icon in the green bar

Select the watermark function
The PDF file is watermarked. If a PDF file is watermarked, you can recognize it by the "With Watermark" label under the file name. To remove the watermark, select the "None" option.


The German timezone is used for all watermarks.
This article did not answer your question?
We are happy to help you! Just send us a message with your questions and we will get back to you as soon as possible.
Disclaimer

The content of this online help is intended solely for information and documentation purposes for our product idgard® and can be changed at any time without prior notice. We assume no responsibility or liability for errors or inaccuracies. Due to technical developments, uniscon GmbH reserves the right to change the functional scope of the product at any time.